IN THE PRESS: Hotelier Magazine getting Kara's thoughts on Guestroom Design this month
Posted: June 14th, 2019
Every picture tells a story and every story tells of a place. Developers are ever-more cognizant of the place in which their hotels stand and how that place can be incorporated into the story of the structure. It's one of the many interior-design trends — along with streamlined furnishings and synced-up tech — that hoteliers have embraced to not only distinguish themselves, but to create unique, personalized experiences within their guestrooms.
A Sense of Place
Brand standards continue to assert each brand's signature style, but many hotels are relaxing their guidelines to allow the individual characteristics of a locale to shine through in the design.

"In the past, Marriott, for instance, was really keen on having its standard red and gold everywhere, no matter where you were," says Jennifer Kurtz of Vancouver-based Kurtz Design, whose projects include Vernon, B.C.'s, Sparkling Hill Resort and Whistler, B.C.'s Hilton Whistler Resort & Spa. "Now, brands overall are more focused on having a connection to time and place. It makes the design a lot more interesting and it's appropriate. You wouldn't take a hotel design in Richmond and plant it in Whistler. From lighting to art work to materiality, it's very specific — and it should be."

Kara MacGregor, principal of Halifax-based MAC Interior Design, whose projects include Delta Hotels and Resorts, New Castle Hotels & Resorts and Rodd Hotels & Resorts properties, agrees. While designing the Delta Hotel in Dartmouth, N.S. — which is home to an Olympic-class paddling community — she commissioned local artists to create a series of paddling and wave motifs to adorn its rooms. "The ability to tell the local story through abstract art and related activities…creates an experience that resonates a little closer to the community," she explains.

Marti Gallucci of Toronto's Mason Studio, who designed the Andaz Ottawa ByWard Market and Toronto's Kimpton Saint George Hotel, echoes the sentiment. "We often tell stories of the places we're in through the origins of an object, finish or technique," she says, noting Andaz Ottawa's polished- and brushed-copper details, which reference the Parliament Buildings and the copper penny; use of wood logs in a nod to the logging industry; and graphic motifs in the custom rugs to acknowledge the indigenous community.

For the refurbishment of the 1958 Fairmont The Queen Elizabeth, Nicole Vekemans of Sid Lee Architecture in Montreal — who also helped transform the century-old Birks jewelry store in Montreal into the new Hotel Birks — drew colour inspiration from Montreal's very distinct seasons. "[In winter], at the end of the day, the sun sets on the snow and the reflection is blue and pink. We incorporated some of those colours — the off-white, the grey, taupe, pink and blue — [into the design]," she explains. Room designs also drew inspiration from the fresh green of spring, extreme heat of summer and red and golds of fall.

MacGregor explains that, while colour schemes can vary depending on the region, they also depend on the target demographic. "Younger 20-something crowds tend to favour darker [hues]," she says. "Lighter, more-neutral colours and materials reflect a more-sophisticated, higher-income demographic."
Form and Functionality
Designers are increasingly answering the call for streamlined and multi-purpose guestroom furniture, Gallucci says. "Rather than cluttering the space, functions are united to feel appropriate for several tasks. We have to be creative in designing flexible, multi-purpose pieces that still fulfill ergonomic and expected requirements."

MacGregor says, "Most people want to sit in a good chair, maybe put their feet up, with a tiny pull-up table for work that can also be used as a room-service tray."

MacGregor says she's also seeing a continuation of the trend to not only elevate table tops and benches off the floor, but to meld them all into one long continuous piece. "[Previously] you would have a desk, a refrigerator, a table for the coffee maker, a luggage bench and a separate panel for the TV. Now it's streamed into one piece that creates a seamless line."

Elevated furnishings are also easier for housekeeping, which can now slip a vacuum into previously hard-to-reach spaces.

MacGregor notes the number of drawers appearing in guestrooms has largely been reduced to just one for personal items and another for a laptop or tablet. Many closets have also been replaced by wall hooks and desks have either been downsized, designed to do double duty as a nightstand or eliminated altogether.

Vekemans notes travellers, especially those on business, "want an adjustable table that can double as a work space and eating area — perhaps on rollers so it can be moved around for various purposes."

Extra ports, plug-ins and chargers are also trending, as are multiple reading lamps, adds Vekemans.
"There's been a move away from embedding technology into the room and toward facilitating what the guests are bringing in," MacGregor adds. Instead, operators are favouring dedicated ports that allow guests to connect their own devices to the TV to watch their own content.

Kurtz adds those numerous outlets should be "intuitive, easy to find, not under a desk or hard to get to."

And, when it comes to in-room amenities, MacGregor says the Keurig has not only replaced the traditional kettle and coffee maker, it's become an expected feature. And, where mini-fridges used to be the domain of the smaller brands, families and sports teams look for them at all levels, to chill water bottles or medication — especially if the hotel is near a hospital. The microwave, by contrast, is being phased out of the guestroom and into communal areas.
The Right Light
Lighting is another element of guestroom design that should not be overlooked. "As people age, they need more light in the same space," says MacGregor. "People in their 20s and people in their 60s need two different light levels to see the room the same way, so having the ability to vary light levels is really key."

She says many hotels had previously invested in fancy switches placed discreetly around the room, but that backfired when guests got frustrated fumbling for the switches. "Now it's simpler, with the switch positioned on or close to the fixture."
And, where darkening shades for sleep once prevailed, guests now appreciate natural light.
Written by Robin Roberts
Design Week in Copenhagen, Denmark
Posted: May 23rd, 2019
Lori has just returned from an IDC sponsored Design Week in Copenhagen, Denmark, attending the Trends and Traditions furniture and lighting show  as well as touring Danish buildings of architectural note and visiting showrooms where beautiful and iconic Danish furniture is being made. So inspirational to see the crafting of furniture recreated from furniture design greats like Arne Jacobsen and Hans Wegner.
AWMAC Atlantic Awards
Posted: May 8th, 2019
MAC Interior Design was honoured to be acknowledged by the woodwork manufacturers this April at the 2019 AWMAC Atlantic Awards . Congratulations to our co-winners, Rodney Enterprises for the Delta Dartmouth Project. Thank you to AWMAC for a wonderful event!
Malaysian International Furniture Fair 2019
Posted: March 26th, 2019
Kara is just back from the Malaysian International Furniture Fair in Kuala Lumpur. She was delighted to join the IDC delegation in presenting the Canadian Interior Design Industry seminar at MIFF 2019, the biggest furniture fair in Southeast Asia.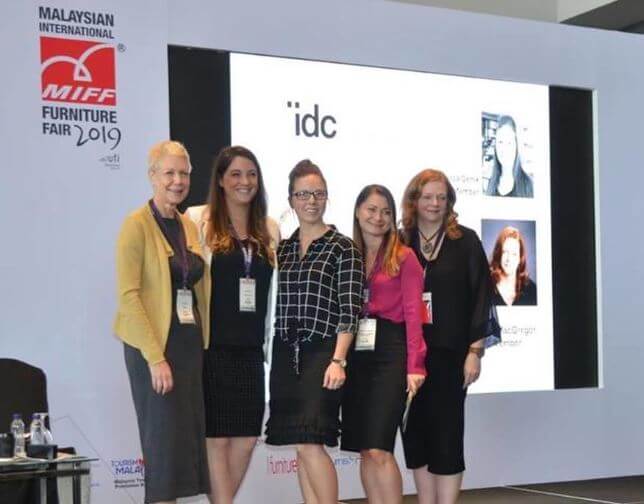 Hot off the Press!
Posted: September 21st, 2018
Kara's thoughts on hotel design in this month's Hotelier Magazine.

As the hotel industry continues to reshape itself to better align with the habits and expectations of digital-native consumers, hotel design continues to evolve — becoming an increasingly important differentiator. In today's highly competitive market, this translates into designs focused on interpreting and expressing a property's unique locale and providing experiential elements aimed at setting the individual hotel apart.
"Hotels, more than ever, have a personality linked to the city that they're in, but also the neighbourhood that they're in," says Maxime Bocken, director of Marketing & Communications for Toronto-based design firm Studio Munge. "The guest is more savvy than ever, so design-focused hotels are very important."
Bocken points to the rise of independent hotels and declining brand fidelity as key drivers pushing hotels and brands across all segments to develop more distinct identities. "We're seeing a variety of personalities coming to the market. We understand that there are tribes that respond to certain types of design more than others so a strong design personality is important. Accept that you won't please every crowd, but will capture a very specific audience that will stay within your property."
Studio Munge put this philosophy into action when designing the Bisha Hotel Toronto, which opened in late 2017. The hotel boasts an immersive entertainment-driven experience inspired by Charles Khabouth and its location within Toronto's entertainment district. "It's really based on our relationship with Charles Khabouth, who owns the hotel with Lifetime Development, and understanding his world…and what entertainment means," Bocken explains.
Studio Munge created several custom-designed furnishings to complete the hotel's night-life-inspired atmosphere, which features high-gloss and mirrored surfaces paired with a dark, moody colour palette. "We have a team of industrial designers, which allows us to create custom pieces for a most holistic solution," says Bocken. "It allows us to rethink the space and maximize it…to give a more flavourful profile to the guestrooms and the hotel in general."
The resulting product offers a lavish multi-layered experience, complete with four food-and-beverage outlets. As Bocken explains, the hotel's programming creates "an element of journeying [and] of discovery, which helps capture the guest so that they stay on the property."
Being authentic to the local community is also a key consideration when designing branded properties. Kara MacGregor, principal of Halifax-based MAC Interior Design Inc., and her team have worked on a number of Delta Hotels by Marriott properties in Atlantic Canada — creating a unique identity for each. These projects include Delta Hotels Beausejour, Delta Hotels Saint John, Delta Hotels St. John's and Delta Hotels Dartmouth, which received the Most Impressive Hotel Repositioning Award from the Hotel Association of Canada earlier this year for its conversion from the Ramada brand.
MacGregor says the design for Delta Hotels Dartmouth was largely inspired by the area's paddling culture. "Dartmouth is called the City of Lakes; it has a huge kayak and canoeing culture…so we embedded that into the artwork throughout the property," she explains.
This included five custom sets of work for the guestrooms, which combine outlines of kayaks and canoes with maps of the local area, as well as wooden sculptural elements that run along the lobby's ceiling. "We ran the ceiling as a series of wood waves in different areas in the main lobby and those waves actually lap down behind the reception desk."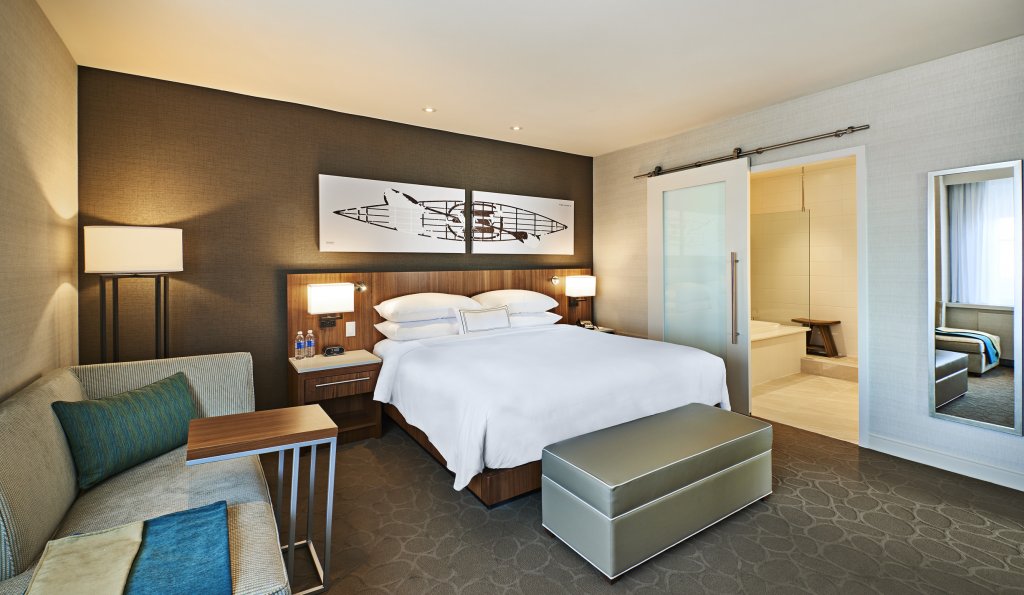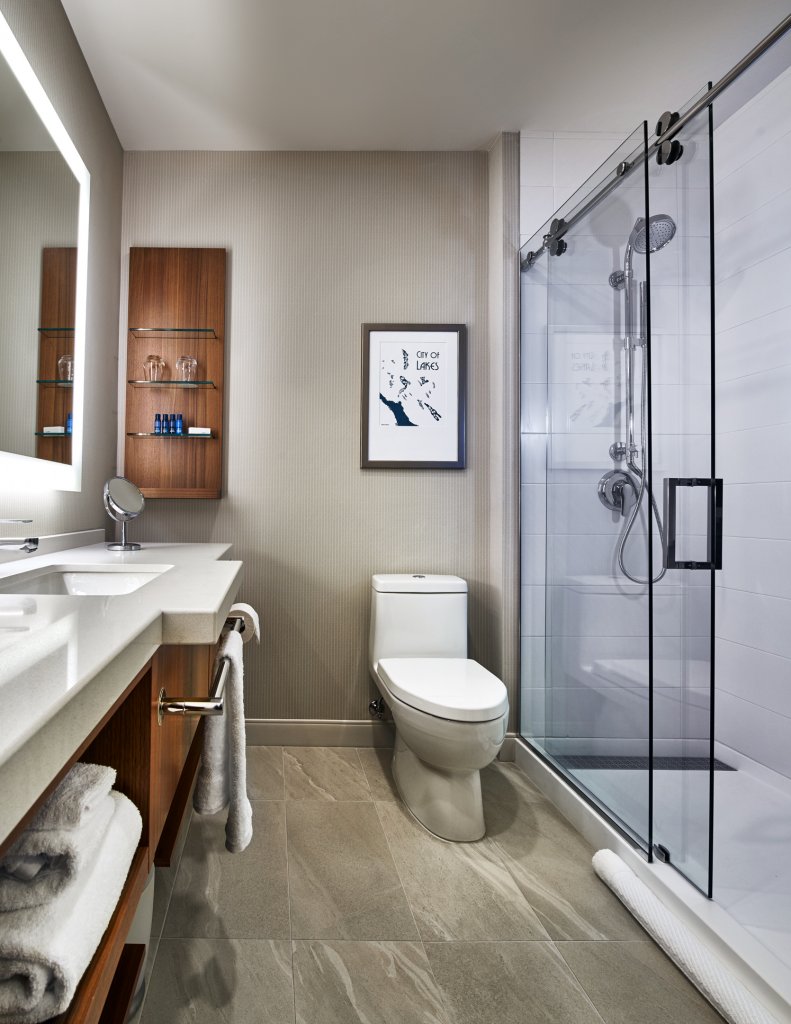 While, as MacGregor notes, "it's really important to us that a hotel be authentic to its locale," ensuring the design complements the property's business case is also a chief concern. "The most important thing for us, as a firm, is that our clients have a financially successful project at the end of the day," she adds.
In the case of Delta Hotels St. John's, this meant focusing on capturing traffic from the hotel's convention centre. "We're trying to drive them into the bar in a way that has never happened there before, so a lot of our design was about getting that visual access to the bar; making it exciting, local and relevant." This involved building a new headway attaching the convention centre to the hotel, as well as removing existing barriers — such as the concierge desk — to create a clear path and open line of sight.
At Delta Hotels Beausejour, the team also rethought the mezzanine-level convention space — creating built-in, stool-height seating along the walls. "We looked at how these conference floors are changing," MacGregor explains. "It used to be, in breakout spaces, that people would sit on sofas in groups and talk to each other and now people [want to] privately perch and text and catch up on emails."
Overall shifts in how guests interact with spaces are impacting the design of many areas of the hotel. "Guests [expect] personalization and attention to who they are and the way they travel," says Adèle Rankin, principal and Global Design lead for Vancouver-based Chil Interior Design. "So, we try to infuse our design with solutions and responses to that…Airbnb and those kinds of disruptors have really made that important to pay attention to."
Rankin points to lobbies as another key area where hotel design continues to shift, which has played a key role in informing the design of current projects such as The Dorian, an Autograph Collection Hotel, in Calgary. With the check-in/reception experience having become something of a moving target, it has become increasingly challenging for designers and developers to pinpoint the kind of welcome experience they want to offer.
"Timelines can be really challenging…We don't want to design too early because we are trying to forecast what is going to be the most current when this hotel [opens]," says Rankin. "The expectation is that people are not coming into the typical reception anymore — that we're allowing them to come and check in however they would like."
Food-and-beverage programming is becoming more central to the lobby experience. "The idea is that you're immersing yourself into a larger experience and you're getting that experience handed to you, as opposed to having to search for it," Rankin explains.
As public spaces become increasingly dynamic and appealing to guests, guestrooms across all segments have begun shifting towards smaller footprints. "That means we have to think about more ways to [create] ease of use within the space — smarter solutions for technology, lighting controls and double functions of dining and desks and nightstands."
However, she adds "No matter how small the rooms are getting, the bathrooms tend not to get any smaller because there's still a perception of luxury with a little more spacious bathrooms."
Prince George Hotel Ensuite by MAC Interior Design Inc.
http://www.hoteliermagazine.com/designer-experience-how-designers-are-creating-unique-experiences/