Hot off the Press!
Posted: September 21st, 2018
Kara's thoughts on hotel design in this month's Hotelier Magazine.

As the hotel industry continues to reshape itself to better align with the habits and expectations of digital-native consumers, hotel design continues to evolve — becoming an increasingly important differentiator. In today's highly competitive market, this translates into designs focused on interpreting and expressing a property's unique locale and providing experiential elements aimed at setting the individual hotel apart.
"Hotels, more than ever, have a personality linked to the city that they're in, but also the neighbourhood that they're in," says Maxime Bocken, director of Marketing & Communications for Toronto-based design firm Studio Munge. "The guest is more savvy than ever, so design-focused hotels are very important."
Bocken points to the rise of independent hotels and declining brand fidelity as key drivers pushing hotels and brands across all segments to develop more distinct identities. "We're seeing a variety of personalities coming to the market. We understand that there are tribes that respond to certain types of design more than others so a strong design personality is important. Accept that you won't please every crowd, but will capture a very specific audience that will stay within your property."
Studio Munge put this philosophy into action when designing the Bisha Hotel Toronto, which opened in late 2017. The hotel boasts an immersive entertainment-driven experience inspired by Charles Khabouth and its location within Toronto's entertainment district. "It's really based on our relationship with Charles Khabouth, who owns the hotel with Lifetime Development, and understanding his world…and what entertainment means," Bocken explains.
Studio Munge created several custom-designed furnishings to complete the hotel's night-life-inspired atmosphere, which features high-gloss and mirrored surfaces paired with a dark, moody colour palette. "We have a team of industrial designers, which allows us to create custom pieces for a most holistic solution," says Bocken. "It allows us to rethink the space and maximize it…to give a more flavourful profile to the guestrooms and the hotel in general."
The resulting product offers a lavish multi-layered experience, complete with four food-and-beverage outlets. As Bocken explains, the hotel's programming creates "an element of journeying [and] of discovery, which helps capture the guest so that they stay on the property."
Being authentic to the local community is also a key consideration when designing branded properties. Kara MacGregor, principal of Halifax-based MAC Interior Design Inc., and her team have worked on a number of Delta Hotels by Marriott properties in Atlantic Canada — creating a unique identity for each. These projects include Delta Hotels Beausejour, Delta Hotels Saint John, Delta Hotels St. John's and Delta Hotels Dartmouth, which received the Most Impressive Hotel Repositioning Award from the Hotel Association of Canada earlier this year for its conversion from the Ramada brand.
MacGregor says the design for Delta Hotels Dartmouth was largely inspired by the area's paddling culture. "Dartmouth is called the City of Lakes; it has a huge kayak and canoeing culture…so we embedded that into the artwork throughout the property," she explains.
This included five custom sets of work for the guestrooms, which combine outlines of kayaks and canoes with maps of the local area, as well as wooden sculptural elements that run along the lobby's ceiling. "We ran the ceiling as a series of wood waves in different areas in the main lobby and those waves actually lap down behind the reception desk."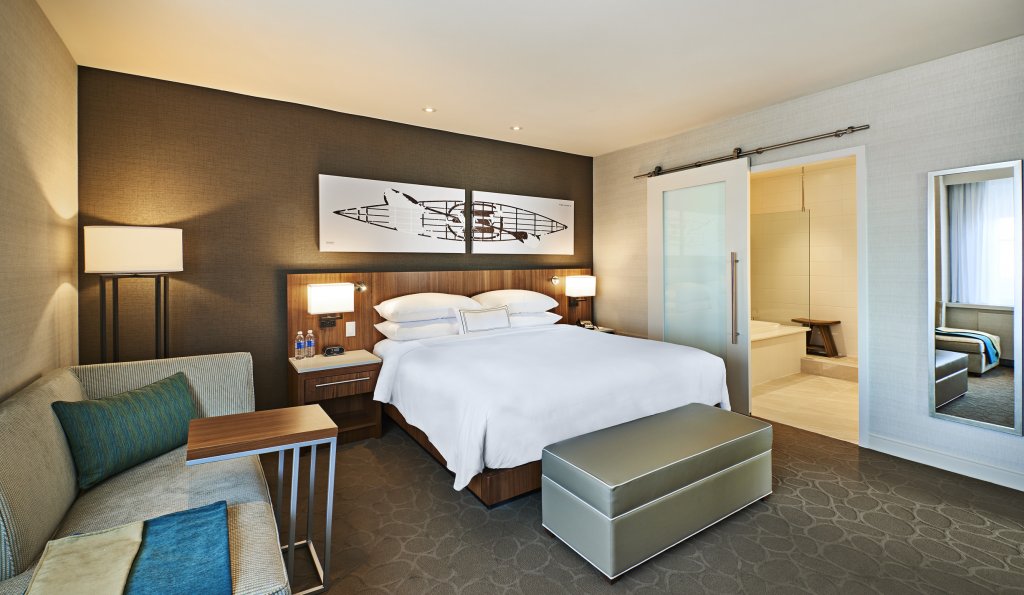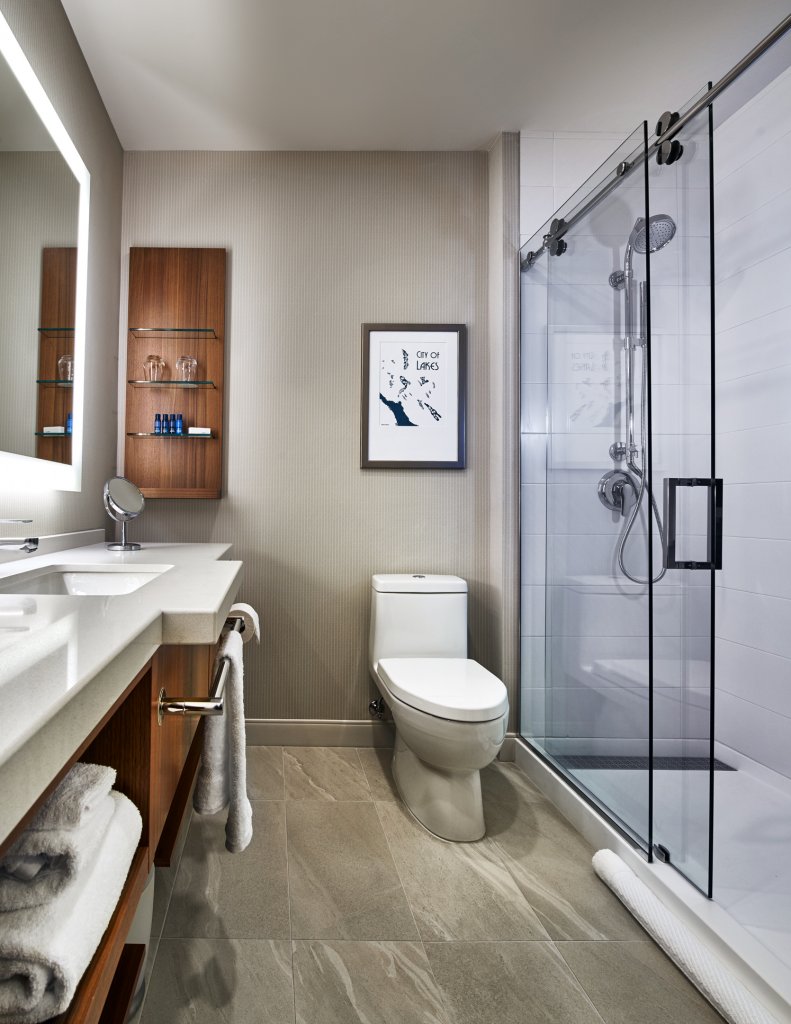 While, as MacGregor notes, "it's really important to us that a hotel be authentic to its locale," ensuring the design complements the property's business case is also a chief concern. "The most important thing for us, as a firm, is that our clients have a financially successful project at the end of the day," she adds.
In the case of Delta Hotels St. John's, this meant focusing on capturing traffic from the hotel's convention centre. "We're trying to drive them into the bar in a way that has never happened there before, so a lot of our design was about getting that visual access to the bar; making it exciting, local and relevant." This involved building a new headway attaching the convention centre to the hotel, as well as removing existing barriers — such as the concierge desk — to create a clear path and open line of sight.
At Delta Hotels Beausejour, the team also rethought the mezzanine-level convention space — creating built-in, stool-height seating along the walls. "We looked at how these conference floors are changing," MacGregor explains. "It used to be, in breakout spaces, that people would sit on sofas in groups and talk to each other and now people [want to] privately perch and text and catch up on emails."
Overall shifts in how guests interact with spaces are impacting the design of many areas of the hotel. "Guests [expect] personalization and attention to who they are and the way they travel," says Adèle Rankin, principal and Global Design lead for Vancouver-based Chil Interior Design. "So, we try to infuse our design with solutions and responses to that…Airbnb and those kinds of disruptors have really made that important to pay attention to."
Rankin points to lobbies as another key area where hotel design continues to shift, which has played a key role in informing the design of current projects such as The Dorian, an Autograph Collection Hotel, in Calgary. With the check-in/reception experience having become something of a moving target, it has become increasingly challenging for designers and developers to pinpoint the kind of welcome experience they want to offer.
"Timelines can be really challenging…We don't want to design too early because we are trying to forecast what is going to be the most current when this hotel [opens]," says Rankin. "The expectation is that people are not coming into the typical reception anymore — that we're allowing them to come and check in however they would like."
Food-and-beverage programming is becoming more central to the lobby experience. "The idea is that you're immersing yourself into a larger experience and you're getting that experience handed to you, as opposed to having to search for it," Rankin explains.
As public spaces become increasingly dynamic and appealing to guests, guestrooms across all segments have begun shifting towards smaller footprints. "That means we have to think about more ways to [create] ease of use within the space — smarter solutions for technology, lighting controls and double functions of dining and desks and nightstands."
However, she adds "No matter how small the rooms are getting, the bathrooms tend not to get any smaller because there's still a perception of luxury with a little more spacious bathrooms."
Prince George Hotel Ensuite by MAC Interior Design Inc.
http://www.hoteliermagazine.com/designer-experience-how-designers-are-creating-unique-experiences/